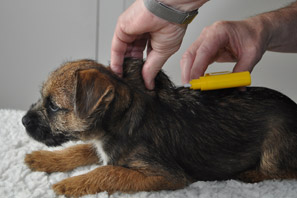 Then Micro chipping of dogs become compulsory in England from 6 April 2016.
It is important that you ensure your dog is chipped or, if already done so, the details on the chip are up-to-date. It is already a requirement in Wales, where dogs have to have been chipped from March 2015.
As a dog owner, you will have many questions about this new law and what it means for you, and your doggy best friend.
Does micro chipping denote ownership?
If a dog strays, bites or causes unjust damage, the phrase used in law is 'legally responsible'. As the keeper of the dog, you are liable for it and thus if the dog does stray, bite, cause a nuisance and so on, you are held responsible.
There is an exception and this is when the dog attacks a burglar or trespasser on your land.
How long after 6 April 2016 do I have to microchip my dog?
From this date onwards, all dogs must be micro chipped and registered on an approved database by the time they are 8 weeks old. In other words, don't wait until April to have your dog chipped – go and do it now!
Are older dogs exempt?
No, there are no exemptions from the Micro chipping of Dogs (England) Regulations 2014. Vets can exempt a dog if they feel that it will unduly suffer as a result of being chipped but there are very few health reasons why micro chipping cannot go ahead. If you are unsure, talk to your vet.
What will happen if I do not microchip my dog?
It is important to know what micro chipping means. Under the regulations it means implanting a chip in the dog and registering your details on a database. By not micro chipping your dog, or not registering on an approved database, you are not compliant with the regulations. In the first instances, you will be served a notice and within this 21-day timeframe, you must get your dog chipped and registered. If you do not, you could be liable for a £500 fine.
If you do not keep your details on the database up to date, you could face another £500 fine too.
What should I do now?
Microchips are available in a number of places, including at your local vets, some animal shelters as well as some of the national pet store chains. Remember, you must have your dogs chipped and your details registered!
Article by Derek Chambers of Finchley Dog Walker and Edited by Sue Goulden of Tip Top Dog School