More than just a walk in the park – bespoke dog walking in the Finchley Area
All Weather Dog Walks – Whatever the weather your dog will have and be entertained,   No Car Journeys. Local Walks in Local Woods by a Local Dog Walker**
Established 2011 – Fully Insured-  a Member of Association of Professional Dog Walkers
Specialising in One to One walks  and Walks for Hyper Active Dogs
What I Do.
If there is one important fact I have learned in all my years as a dog walker it's this – the key to a contented, well-rounded dog is exercise and at Finchley dog walker your dog will have and be entertained whilst learning, Whatever the weather your dog will enjoy  play, training and socialization.

All dogs, whatever breed and whatever size they benefit greatly from regular exercise which provides not only a physical benefit but vital mental stimulation too.  The transformation in a dog lacking in this to one which learns how to really enjoy being a dog is thoroughly heart-warming and when I can bring your pet back home contented, exhausted and fulfilled I know he will have enjoyed our time together as much as I have and this is my main aim.
Enhanced DBS
I have an enhanced DBS via the scout association and my insurance is with Pet Business Insurance
Trained & Professional
First aid trained (human and k9) volunteer at the Tip Top Dog School
Reliable & Trustworthy
We offer a reliable and dependable service and will always go the extra mile to meet yours and your pets needs
Caring & Affectionate
Your pet will receive only the highest level of love, care, affection and respect
Area of operations
N2, N3, N10  and N12 including

East Finchley N2

Finchley Central N3

Muswell Hill N10

Friern Barnet N1




North Finchley N12
Bespoke One to One and Small Group Dog Walks.
I know that, although dogs are sociable animals, not all of them cope well with being in a group and this could be for any number of reasons. Elderly dogs may prefer to walk without the distraction of younger dogs jumping around them while puppies can often get too excitable or too nervous which can prevent them from learning properly. Some dogs may need some basic training and a walk is ideal for teaching basic obedience in an enjoyable, non-stressful way. I incorporate training in on-lead, recall and other commands using a positive method only.
So I am pleased to be able to offer bespoke individual walks, tailored for you and your dog's exact requirements so that I can do my best to increase your dog's enjoyment on his walks.
Ruby has been transformed since Derek has started taking her out daily, I find him to be trustworthy, friendly and very accommodating even with all our last minute changes and requests! I would not hesitate to recommend Derek to friendsBea. Buck
I also offer group walks for pooches that love to interact with other dogs. On these, my limit is three dogs at a time so that I can give each dog the best level of attention and interaction whilst ensuring their safety at all times. I try to include, under constant supervision, swimming and outdoor activities for your dog's maximum enjoyment. All my walks start from your home to avoid stressful car journeys and there is an abundance of fields, woods and parks on our doorstep. I will also do some on-lead walking as this is good for his fitness and it helps wear down his claws.
Whilst out walking your dog will enjoy the odd  hypoallergenic treats for good behaviour  so if your dog has any dietary requirements I can cater for this and I am experienced in animal health care, fully insured and am a member of NARPS UK.
To find out more about the services, simply use the menu above or call us on 077 077 6 3344
Are there any restrictions of breed that I should know about?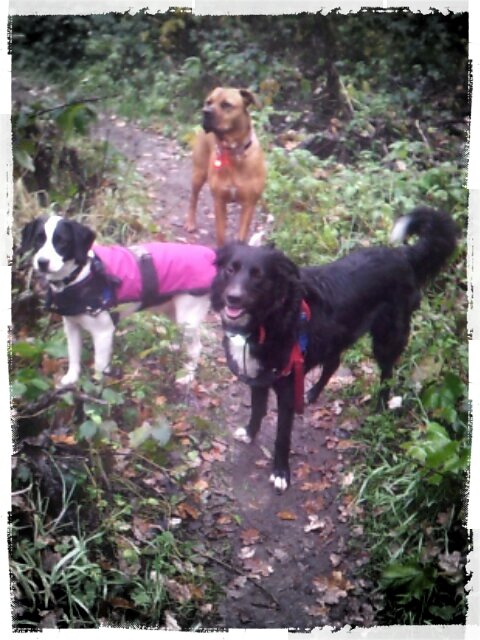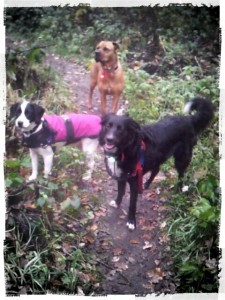 I walk dogs of all breeds, shapes, sizes, age and personalities and firmly believe that a grumpy King Charles needs walking and stimulated just as much as a bouncy Labrador and the owner will reap the rewards of a pacified, contented and happy dog.  Our walks are all bespoke to your needs. I also have a dog report card which is a way of keeping you up to date of how our walks have gone, where we have gone, what we have done, what your dog liked/disliked and how things went. I find this level of communication vital to ensure all parties are happy.
What other services are offered by Finchley Dog Walker?
As well as dog walking I also offer Pet Sitting Services and Puppy Care, which do include walking if required. Pups cannot be left alone and need stimulation, social interaction and sometimes just a cuddle and a play to keep them happy. An unhappy pup will, in turn, make an unhappy owner, fact. Puppies who are left alone for long periods of time will develop a catalogue of behavioural problems such as barking issues, chewing, and even aggression – these are highly regular outcomes of dogs who are lacking in stimulation, they become bored, nervous, lonely and scared and they show this by displaying what the untrained eye may see as 'naughtiness'.
Pet Sitting Services from Finchley Dog Walker
I have found during my 20+ years of experience working with dogs and pups that the best method is consistency.
When you need to be away from home without your dog, whether you're on holiday, possibly work commitments or a short break I can come and look after your pet in your own home using the same dedication, passion and vigor whether I am there for an hour or a week, whether it's daily or annually. When you leave your pet this is a huge change for the animal and added to that by placing them in a strange environment such as boarding kennels can have detrimental effects. I will keep things as normal as possible and ensure your pet is never lonely, frightened or sad and I can keep you up to date on how things are going by emails, text messages and even WhatsApp so you can see for yourself than your dog is contented and happy with me.
Here at Finchley Dog Walker we leave nothing but our Paw Prints