About Finchley Dog Walker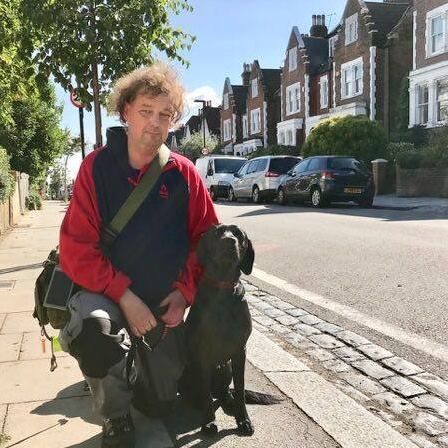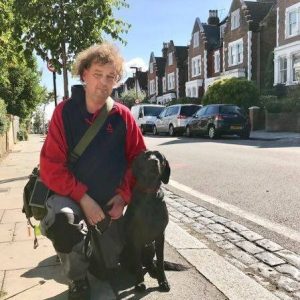 Hello, my name is Derek Chambers, known to all my friends as Del.  Following more than 20 years of working in an office, I decided to follow my heart and turn my love of dogs and the outdoors into my dream vocation.  I have a lifetime of experience being around, living and working with dogs and I established my dog walking business in 2011; from there it has gone from strength to strength.
My long experience with dogs encompasses all breeds and temperaments, from hyperactive large breeds to damaged rescue dogs.  This has given me a very personal and valuable insight into how best to make the relationship between man and dog work for mutual benefit.  I strongly believe that to work with dogs you need to have a love for them and for their wellbeing, and a dedication to helping them to enjoy life to the fullest by reaching their best potential.
I am registered with NARPS UK (the National Association of Pet Sitters and Dog Walkers).    NARPS UK is a national body set up in response to the burgeoning number of professional dog walkers and pet sitters to ensure that strict codes of practice were established and adhered to.  I am fully insured (PBI) and first aid trained for dogs and people.  And because I also work with young people as a Scout leader, as well as being a climbing instructor, air rifle instructor and GNAS instructor in my spare time, I am Fully Enhanced DBS checked.  Be assured that there is no safer pair of hands for your beloved companion to be in. (I also volunteer and help out with Tip Top Dog School)
My Dogs.
At the moment I own two rescue dogs; a collie named Missy and a Speagle (Spaniel/Beagle mix) named Roxy.  I found Roxy abandoned on a motorway.  She was in a terrible condition but over time I nursed her back to full health.  Through researching and learning about her varying ailments, skin conditions and dietary needs I learned valuable lessons about canine health which I am happy to share.  I will confess at this stage that the breed dearest to my heart is the Border collie and my years with them have shown me the true meaning of hyperactivity!  The collie needs lots of stimulation and studying them has confirmed to me the importance exercise plays in forming a happy dog.
Exercise equals Contentment.
I want dogs in my care to have fun during our varied walks, with incorporated play and training.  With support from TipTop Training School, I only use the positive reward method of training.  My belief is that a well-trained and well-exercised dog is a happy dog and with me, your dog will get the best, and safest, walking experience and you will have a contented and calm dog!
Please remember that Finchley Dog Walker do not own a van or a car. When we take the dogs out, mostly they walk, unless some unforeseen circumstances mean we have to change our plans such as get the bus, train,  or the dog gets tired and is carried (I'm not too keen on that one, actually). SO you don't have to wonder, exactly how long is my dog going to spend in that cage in the back of that van? Dogs can't talk, you won't know… we offer local walks in some of the great open spaces in the Finchley and surrounding areas

Please feel free to
 contact me
 to discuss any specific requirements.
More than just a walk in the park – bespoke dog walking in Finchley Area