Dog walking etiquette for beginners.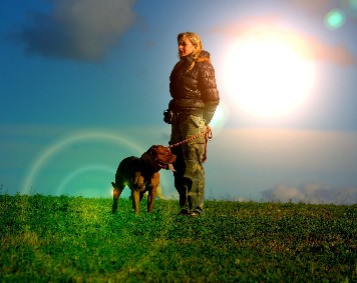 If you're a veteran dog walker then you'll probably know most of this off by heart, but read on regardless because you'll almost certainly be able to relate and if there's anything we've missed then we'd love to hear from you.
Firstly I think we need to point out that  no two dogs are the same, but in the same breath we also need to mention that they all share certain habits.  With that in mind please remember this is just a guide, it is not a code nor is it a bible… ultimately dogs are dogs and they can and will continue to  surprise and confound and of course amaze us.
Episode one –  Taking care of business
Rule 1)
Unless you are in the countryside and far from the path, it is your duty to sort out the doo doo. Always carry poo bags and always carry  more than you need. Just because little Betsy is normally a triple layer in the morning, doesn't mean she won't think twice about going for the record when you're down to you last three bags… in fact this is when she's most likely to make the attempt. Also carrying more than you need means you will be able to come to the aid of other dog walkers whose dogs have also realised their owners are down to the last couple.
Rule 2)
Carry the full bags with you. The more you walk your dog, the more you will see charming little plastic Christmas tree decoration bags dangling from trees throughout the park.  Don't be a dangler, carry the bags with you. Someone's got to pick them up and frankly that should be you. It might be a long way to the nearest bin and you're probably  thinking, oh I'll just pick it on the way back. Your intentions are probably honest, but we humans forget… so take them with you.
Rule 3)
Pay attention! Just because you have to watch that funny video of the squirrel on Youtube doesn't mean you can ignore what Attila is doing on the green behind you. Besides sod's law dictates that, even if you only have to blink to miss it, the coach load of nuns, the class of nursery children and even the the partially sighted old chap on the bench behind you, will all see it in glorious technicolour and worse still they can now see you leaving the scene of the crime, giggling as you go.
Rule 4)
What goes in the bushes, stays in the bushes. If you're lucky and Harry likes a bit of privacy when he's doing his thing, then as long as you can't see it from the path and retrieving it could incur actual injury, you're generally OK to let it go and the plants might even be the better for it.
Rule 5)
It's OK to ask for help, We've all been caught out. Maybe you're late for work and shot out the door without the necessary tools for the job. We dog walkers have all done it  and it's better to ask for assistance than risk leaving a blight on the landscape.
Remember if you leave the doo doo in a middle of a field some poor park keeper that comes along and strims or mows that grass will get covered with it as it throws up in his face.  Would you like that?
Related articles
(Visited 4 times, 1 visits today)