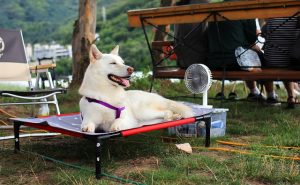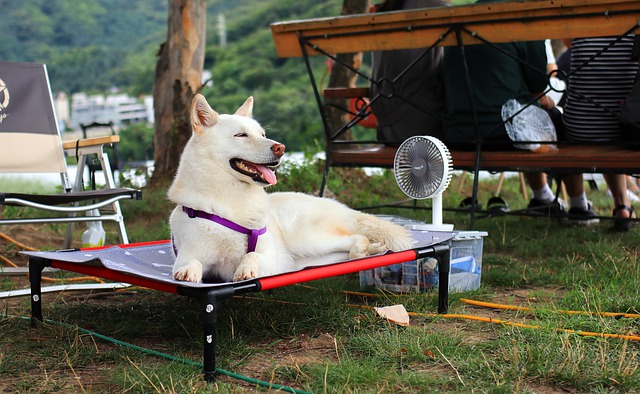 Summer days don't stay around for very long, yet even as we wind down to the last few weeks of the season, there are many fun activities you can do to spend quality time with your dog.
Considering taking your dog along on your summer holiday gives both you and him the opportunity to take a break from routine and experience new places and experiences. It could be just a walk around some amazing gardens, a pint in the local beer garden, or a couple of nights under canvas. Read on for our hints and advice for some of the best days out that you can enjoy with your pooch.
Visit a local beach
Of course, make sure it's a dog-friendly beach, as many don't allow dogs onto the sand during the summer months. It's also best to visit either early morning or evening, as the sand can often be quite hot for a doggies' paws. Remember to take along dog poop bags too and clean up after your pet every time.
Explore a different walk in a dog-friendly park
It's exciting for your dog to explore different environments and meet new friends. Most dog parks allow pets to run around off the leash, allowing Fido to sniff around and discover new surroundings.
Take a road trip and stay overnight.
Plan a car journey or an outing on public transport to a nearby town. Many B&Bs are pet-friendly and will allow your dog to stay overnight in your room. Check out hotels and cottage rentals, too; you will be surprised how many allow well-behaved pets to stay.
National Trust and English Heritage sites in the UK
Both of these have hundreds of historic sites and properties for you to visit, and the majority of them are dog-friendly. Check on their websites for exact regulations. You might not be able to take your pup into the elegant properties, but each location usually has extensive grounds to explore with your canine, on a lead, of course.
Soe of the English Heritage sites that are dog friendly include
Scarborough Castle, North Yorkshire
Pendennis Castle, Falmouth
Beeston Castle, Cheshire
Go on a mountain hike.
Well, maybe not a mountain, but head to the hills for a change of scenery. The majority of dogs make brilliant hiking companions. First, make sure that the weather isn't too hot and that your dog is physically fit. Remember to take plenty of fresh water and snacks for both you and your canine pal for frequent refreshment stops.
Take a camping trip
If you're an outdoorsy person, your dog is probably used to spending lots of time in the open air. Enjoy nature together with an overnight camping session. Check first that the campsite will allow dogs. You will have plenty of time to go for walks, explore a new location and even sit by the campfire or BBQ at night.
If you prefer to leave your dog at home
Of course, not all dogs like to travel, so you may prefer to leave your pet at home while you go off on holiday. If it is just for a few hours, a friend or neighbour may be able to help out, or if for a longer period, contact a local pet sitter, who will call to your home to feed and walk your dog in your absence.
If it's a rainy day – snuggle up inside.
We certainly cannot be certain about the unpredictable summer weather, and quite often, the rain appears to spoil our plans. Don't let it upset you, though. It's a brilliant chance to relax and enjoy each other's company – snuggles on the sofa with tasty treats will be appreciated by both humans and canines.
There are certainly lots of fun things you can do with your dog during the summer months. Be aware of the weather and rising temperatures and the effect they can have on your pet. Watch out for signs of heatstroke and heat exhaustion, and don't exert your dog too much during outdoor activities. Always have fresh, cool drinking water to hand. Above all, have a safe and enjoyable summer with a lot of nice dog walks.