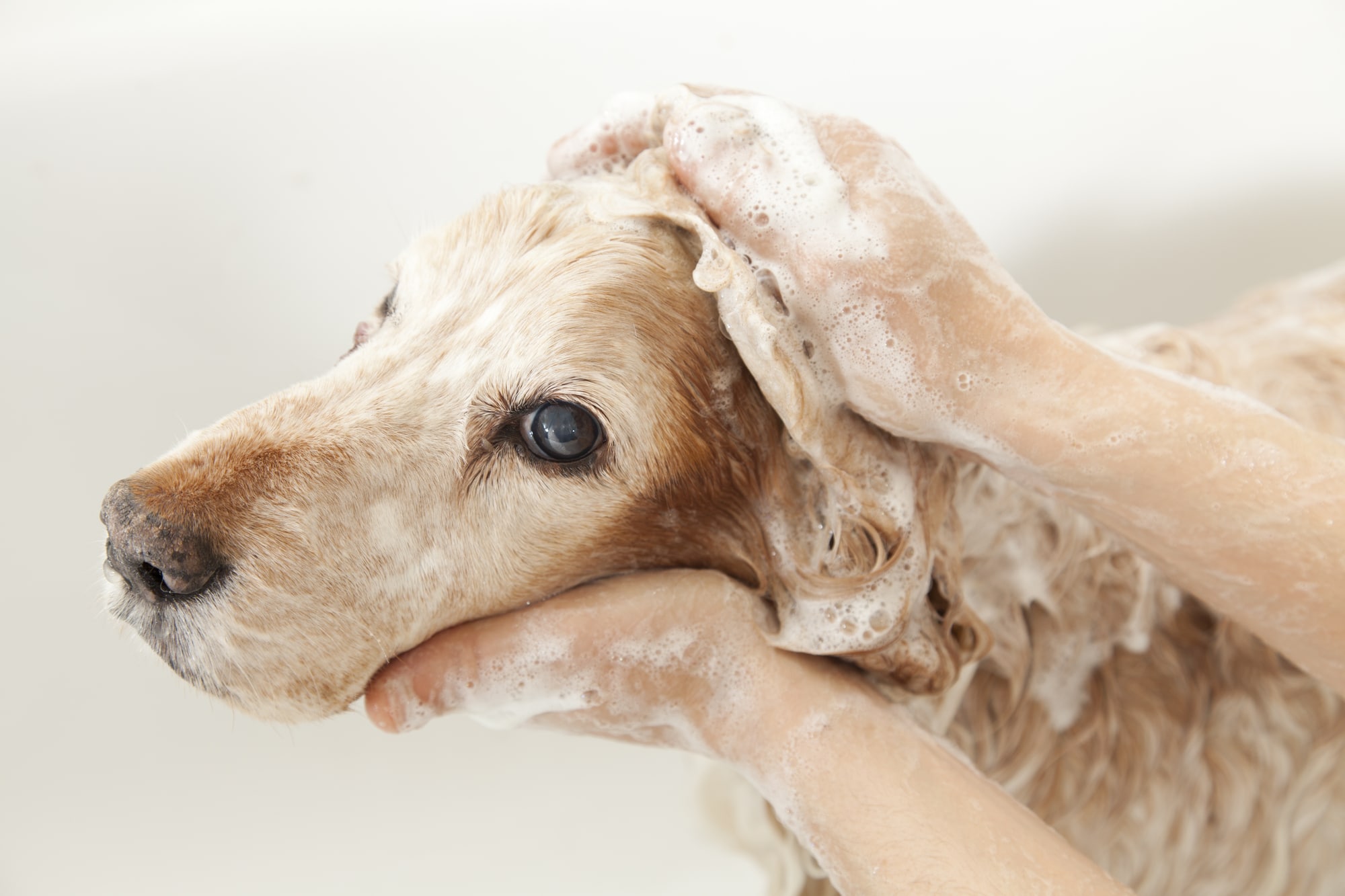 As much as we love our four-legged friends, there is no denying that they add to the cleaning around the home. With muddy paws and fur shedding, it is harder to keep the house clean and sparkling when you have a dog. However, we simply adore them, so we put up with this extra burden, but it's always nice when you can come across some cleaning hacks to make life just that little bit easier.
I find it easy to keep a pet clean up kit handy, which I store under the sink unit. It contains paper towels, rubber gloves, a scrubbing brush, shaving foam, and a spray stain remover bottle.  This enables me to clean up any pet accidents or mess immediately.
Indoor House Cleaning Tips

Easy Clean
There are a few materials that are easier to clean than others, and it always makes sense to add these where possible to your heavy dog areas, such as the living room and kitchen.
Tiled floors and wooden floors are much easier to clean than carpets, for example, and don't trap smells. Keeping carpet for just the bedrooms makes it much easier to clean up after your four-legged friends.
Fabric generally is much harder to clean, so either real leather or plastic leather sofas also much more straightforward when it comes to wiping off any mud that may have accumulated when your dog jumped up.
If you find the floors too cold, you can add scatter rugs. A really helpful and creative tip is to use outdoor rugs inside. You can get some really incredible rugs that prevent water and dirt from soaking in and are easy to clean. Some people swear by carpet tiles, as these are also easy to replace as you can lift one and replace it with a new one if it gets too badly stained.
Wipe clean surfaces
When it comes to kitchen cupboards and other places your dogs may regularly jump up or brush against, high gloss surfaces are much easier to wipe down, and darker colours are great for hiding evidence of Fido at his best. You can get high gloss paint, and coat all of your cabinets, and consider tiling a splashback around the bottoms of walls, especially where your dog chooses to sleep.
Washable Throws
Another way to add some texture and warmth to living areas but keep it dog friendly is to stock up on colourful throws, which you can place over seat cushions and chairs, protecting the furniture beneath them and being easily washable as in when they get dirty. Cotton is a very strong fabric that is machine washable, and many modern fleece blankets are great. The only downside to fleece is that it does wick water, so you will want to make sure any spills or wet dog smells are dealt with by throwing them in the washing machine pronto.
Spray Bottle
The biggest weapon in my personal armoury is a spray bottle with some washing up liquid and white vinegar combined, as this is safe for your pets and makes a great spot cleaner.
It lives on the kitchen worktop next to a roll of paper towel and is ready to jump into action whenever it might be needed. It is a great way to deal with any puppy potty-training accidents or muddy paws when we are stuck in the depths of the great British winter.
Another good tip is to keep shaving foam handy.  This really is good for spot cleaning carpets and anything fabric.
Groom your dog daily
Daily brushing will help to stop the fur flying around your home, especially if you have more than one dog, as I do. Just spend 5 minutes each day brushing his coat, and not only will you notice that your dog smells and looks better, but he will love the extra attention. Change his collar for a new one every so often, as they attract grime and smells.
Keep pet fur to a minimum.
Use your vacuum cleaner with an upholstery nozzle to clean hairs off curtains and sofas. A lint cleaner roller will lift off some hair, but it's easier if you wrap adhesive sellotape around your hands with the sticky side out, then wipe over your clothes to pick up stray hairs.  A wet rubber glove wiped over cushions will collect fur into balls, then rinse under a running tap to remove from the glove.
Keep dogs bedding hair-free
If you're choosing a new pet bed, opt for a wicker type basket that is easy to wash and disinfect to keep it free from fleas and germs. A quilted dog bed looks cute and comfy, but they're difficult to keep clean.  If your dog or cat's bed is smelly, sprinkle it with baking soda. This will freshen the bedding and won't harm your pet.
Keep the pet's eating place clean.
If you have a utility room .in your home, feed your pets in here. You may have a sink where you can prepare their meals and wash up dishes and utensils without contaminating your kitchen work surfaces. Please don't place your dog's feeding bowl on the carpet; it's difficult to clean up any spills. Wash their water and food dishes often, using dishwashing liquid and hot water, then rinse and dry with paper towels.
A good cleaning tip is to spray the dog's food bowl with cooking spray.  This will help make the bowls easier to clean as they won't stain as easily.
Choose a sensible, easy to clean dog bed.
At the pet store, don't be lured by the fluffy lined, luxurious pet beds, which can prove a nightmare when it's time to wash them. Choose one that is easy to wipe down or wash, and if possible, leave it outside in the sunshine to air whenever you get the chance.
Clean your dog's toys regularly.
It isn't only the dog's bed that needs to be regularly cleaned; the lead and his toys also need to be freshened up. If machine washable, put them on a quick wash cycle or hand wash with a mild detergent, then leave outside to dry in the sunshine.
Outdoor Cleaning Tips
Put a coat on the dog.
Some dogs will benefit from a nice Equiflece in the winter.  Equifleece jumpers or onesies will not only help keep them warm but will help keep the mud off the dog.  Simply remove the equifleece and throw it in the washing machine.
Install an outside tap
If possible, install an outside hot and cold tap so that when you return from the walk, you can give them a quick hose down in plain warm water *or just cold) to remove the dirt.
If you cannot install a tap, try putting a bucket of hot water beside the door before your walk.  When you return, the water should hopefully still be slightly warm for you to give him a quick rub down.
Wipe his paws after each muddy walk
When I've been out dog walking, it's not only me that comes home with muddy feet. Keep a supply of old towels and wipes handy near the doorway and teach your dog to wipe his feet after each walk, or you wipe them for him with wipes, always making sure they're properly dry before he enters the house.
Of course, don't forget the dog! A bath now and again can be good fun and will freshen him up too. Try to dry him off completely with dry towels.  There is nothing worse in your home than a wet dog aroma.
How to get rid of doggy smells
There are many fragrant candles and air freshener sprays that you can buy to mask the smell of dogs in your home, but take care of your pet is extra sensitive to any of these commercial products. There are many natural alternatives that you can try:
Soy or beeswax candles
Essential oils that can be mixed with water in a spray bottle and spritzed around the rooms
Sprinkle bicarbonate of soda onto fabrics and leave overnight, then vacuum off to remove nasty odours
White wine vinegar mixed with water in a spray bottle will eliminate some pet odours.
Open the windows and let the breeze freshen your rooms.
It's never going to be easy to prevent your home from smelling of your pets, but with a little bit of work, you can attempt to eliminate the odours.
Consider keeping one room in your home "pet free", where you can entertain any friends and visitors without them becoming covered in your dog's hair.
You may also be interested in our article about dogs and mud, Along with why do dogs like fox poo, the article by The Happy House Cleaning Company.