Recommended for dogs who cannot be walked in a group, need basic obedience or one-to-one interaction with an experienced dog walker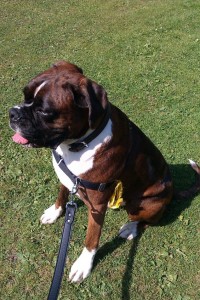 One-To-One Dog walks or Solo dog walks booked with Finchley dog walker are usually for a one hour period but this can be easily extended upon request. .  Finchley Dog Walker is also a sponsor to Yellow Dogs UK so fully understands some dogs need space
For a 60 minute one on one walk I charge a very reasonable £18 which includes treats and training. There are many dogs who will benefit greatly from a solo dog walk, I have extensive experience of working with rescue dogs (including Roxy my own Rescue dog) and dogs with behavioral and health issues and I understand that these dogs can be nervous, stressed and anxious during interaction with other dogs so I feel the best approach is for me to build up a strong relationship with your dog, before we think of introducing mixed walks which will bring great enjoyment to your dog, but can take time to establish.
A young, healthy and robust dog enjoys nothing more than bounding around with a pack, playing, interacting and learning the vital social skills but for dogs who do not fit into this category, of which there are many, a solo walk is the most beneficial for him/her.
We have a boxer Oscar who really looks forward to his weekly walks with Derek . We have used finchley dog walking services for over a year now and have found Derek to be very reliable , understanding and always willing to give time to chat about healthy eating, treats he makes himself and dog behaviour.Juliet, North Finchley N12
Why consider a solo walk with Finchley Dog Walker?
If you have taken on a rescue dog you could find you have a lot of issues to contend with. These could be mostly behavioral and very easily fixed by someone who has the experience and knowledge such as myself. My commitment to solo dog walks with your rescue dog will allow me time to understand your pet and I do not impose negative training. My methods are positive training, understanding and working together. Negative training can over shadow your dogs personality and make them more of a robot than a pet and this is something I will not adhere to. Whatever character your dog has we need to embrace this by positive correction tactics.
Please note I will NOT use or |Endorse any training aids such as Pinch Collars or e-collars as I feel these do more harm than good 
Finchley Dog Walker can help with issues such as lead pulling, barking, aggression and anything which you have problems with.  An older dog may be arthritic and wish to take things at a slow pace, taking in the air and enjoying the sights and smells of the outdoors. I am happy to do this for as long as you wish and firmly believe that an older dog still needs as much exercise and stimulation as a pup and you will reap the rewards of a settled and contended mature companion.
If you feel that your dog will benefit more from a solo dog walk or even a walk designed for high energy dogs  for whatever reason, maybe short term due to a bitch being in season or longer term with a dog who needs slow and steady rehabilitation, whatever the reason, you can contact me and we can discuss how best to provide exercise, stimulation and fun for your pet whatever the breed, age, size or issue may be.
Finchley Dog Walker has support from Tip Top Dog School www.tiptopdogschool.co.uk
Please visit our rates page for Solo Dog Walking